Welcome to AIKIDO Aishinkan
Kyoto Osaka !!
We are trying to make our dojo as an open and enjoyable place where anyone can start Aikido easily and continue for the long time.   We always welcome beginners, new members of any Aikido grades, and visitors from all over the world.    If you are interested in AIKIDO, please feel free to come to see at any time. 
For any inquiries, please  send your message to aishinkandojo@gmail.com

Fees
 Lesson Fee JPY1,500/one time (2 hours)
Or monthly payment system  
Adult :  JPY7,500/month
Children :JPY5,500/month (including high shcool students)
Student : JPY3,500/month (University or any schools after graduation of high school) 

Admission fee: JPY5,000    (JPY3,000 for student)
Insurance fee : JPY2,000/year  (JPY1,500 for children)
(every year starting from April 1 to next year March 31)
Place and training schedule
1)  Gosho-Minami Dojo (Imperial Park's South  DOJO)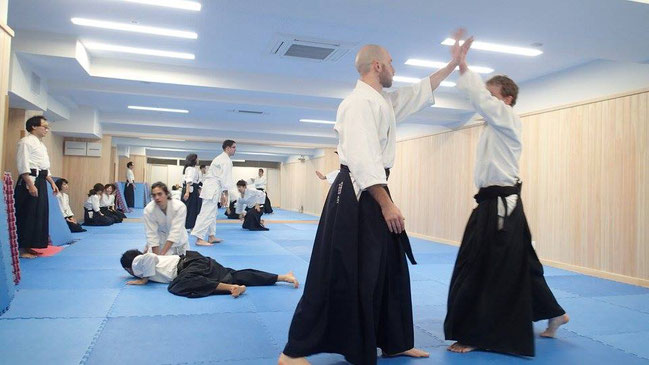 Place :   Underground (B1F) of the eastside building, the south of Takeyamachi St./Ainomachi St. crossing,  Nakakyo-Ku, Kyoto.

5 minutes walk from Subway Karasuma-Marutamachi Station

Training schedule :
Wednesday :  19:30 - 21:30
Thursday :    19:30 - 21:30
Friday : 
10:30 -12:30  (Cozy class.  Only basic and slow movements)
16:00-16:45   (Children/Adult together) 
18:30- 19:30   (Children/Adult together) 
19:30 - 21:30  (Adult)
Saturday : 
16:30-18:30  (Cozy class. Only basic and slow movements)
19:00-21:00  (Adult)
Sunday : 
10:30-11:30  (Children/Adult together)
11:30-12:30  (Adult)
14:30-16:30 (Cozy class. Only basic and slow movements)
18:30-20:30 (Adult)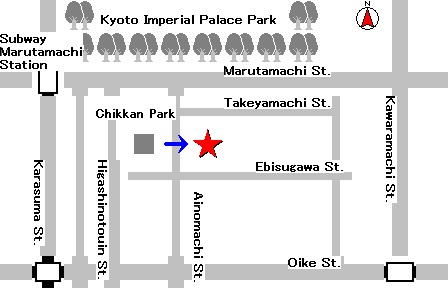 Note:  Our old dojo in Kyoto were already CLOSED.  
*  Shijo-Karasuma dojo (Rokkaku studio 5F) was closed  on 23th December, 2016
* Horikawa-Imadegawa Dojo (Nishijin Textile Center, West Bldg. 2F)was closed 29th January, 2017
2) Nakazaki Dojo (Osaka)
Saturday
12:00 - 13:00 (Children/Adult together) 
13:00 - 14:00 (Adult)
Location :
Tenroku-view-heights 103 (Kyokushin Karate Nakazaki Dojo)
2-15-14, Honjohigashi, Kita-ku Osaka-city, Osaka, 531-0074
3) Tenroku Dojo (Osaka)
Monday
18:00 - 19:00 (Children)
19:00 - 21:00  (Adult)
Location :
Kanboku fukushikaikan
1-50, Ikedacho, Kita-ku Osaka-shi, Osaka, 530-0033, Japan
Documents Download
Our Master, Toshio Tanimoto sensei
Tanimoto sensei was born weak and always wished for healthy body in his youth.   At his age of twenty, he met Aikido by chance and started the continuous training for over forty years until now. 
Tanimoto sensei says he barely kept up with others at the beginning.  But he have been fascinated by Aikido through his life and he is now 7th dan Aikido master.
Tanimoto sensei keep his growing fascination with Aikido and his technique is still improving.
Instructor of Aishinkan Kyoto & Osaka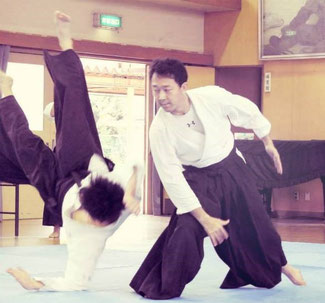 Hiroki Ogawa  (4th Dan Aikikai)
I started AIKIDO in my home town in Nara prefecture at 16 years old, then experienced several different dojos and also captained the AIKIDO club of Kansei Gakuin Univ. in Osaka.
After my graduation of the university, I moved to Ehime Prefecture for my job, where I had my impressive, life-changing meeting with Tanimoto sensei. Since then I am trying to learn his spirit and technique for ten and several years.
in Aishinkan Kyoto & Osaka (since 2011), my motto is "Enjoy AIKIDO practice safely together"
Links
We organize your Aikido trip in Japan